GO FETTA YOURSELF CHICKEN SALAD – Solid Lunch Idea
Prep time: 15 minutes – Cook time: 10 minutes – Serves: 1 – Protein: Chicken
Prepare yourself a Salad that will not only Fill you up but give you energy to get you to your next snack! This salad is a heart salad filled with all the most flavor filled vegetables designed to get your taste buds going! Eat as much as you like!
Ingredients:
1/2 cup Kale
1/2 cup Spinach
.15 Cucumber
.5 a Small Tomato
.15 Broccoli
1 Mini Peppers
2 Slices of Red Onion
2 oz Shredded Carrots
1 oz Crumbled Feta
.5 oz Dried Cranberries
.5 oz Cashew Nuts
.5 oz Walnuts
2 oz Chicken
DRESSING: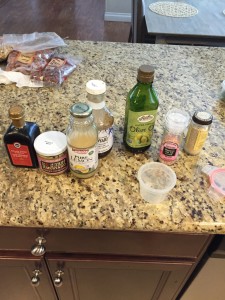 5 Tbsp Balsamic Vinegar
.5 oz Lemon Juice
2 Tbsp Soyaki
3 Dash Salt
1 Tbsp Sesame Seeds
1 Tbsp Honey Mustard
1 Oz Olive Oil
Preparation
Prepare a High Quality Tupperware for your salad to sit in.
Mix in All Ingredients in Any Order
Enjoy!
Nutrition Facts
per 1 serving
429 Cal
22 g of fat
34 g carbs
484 mg sodium
27 g protein
with 1 oz dressing add 120 calories
Share With Your Friends